Health Education and Food Aid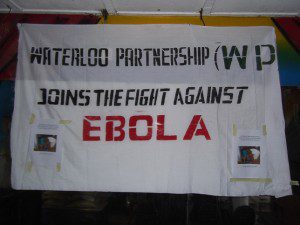 Alieu Mansaray, Chair of the Waterloo Partnership Sierra Leone  (WPSL), and his team in Waterloo organised a very successful Ebola 'sensitisation' event last week, and completed the distribution of food aid to 300 quarantined people before the 3-day national curfew began on Friday.
About 120 people attended the health protection training, including local officials and tribal heads, and representatives from churches, mosques and community organisations. To spread the message as widely as possible, WPSL had imaginatively invited people who have a lot of contact with the public, such as bar owners and hairdressers, and stall owners who sell fast food, lottery tickets or cell-phone top-ups.
The Community Health Officer, James Jajua described for the audience the signs, symptoms and prevention of Ebola virus disease, stressing the importance of hand washing and avoidance of body contact. Further teaching sessions have been requested.
To encourage frequent hand washing, hand disinfectant and 84 buckets fitted with taps were supplied later that day to places where the public tend to congregate, such as filling stations, pharmacies, hairdressing salons, bars and cafés.
Advised by James Jajua, on Thursday 18th the WPSL team delivered supplies of bottled water and basic food items such as rice and oil to all the 300 quarantined people in Waterloo. There were five locations involved, including the garage and nearby house of Mahmoud Conteh, whose apprentices the Waterloo Partnership has supported in the past. At the compound of a large extended family, there had been 9 deaths, and 62 people were now in quarantine for 21 days. Not surprisingly, the team received many other requests for food aid.
The Epidemic
It is clear that the outbreak is accelerating. WHO has announced that 700 of the 5,000 confirmed cases in West Africa occurred in just one week in early September. In the three and a half weeks since the first two deaths in Waterloo, the number of fatalities rose to 60, and the number of quarantined contacts from 21 to over 300. On the first day of the current national curfew, 7 bodies were discovered in a village on the outskirts of Waterloo. Six more deaths have sadly occurred during the second day of curfew, and Waterloo now has its own specialist burial team.
The health services are overwhelmed: WHO reports that there are currently only 165 beds available in designated Ebola Treatment Centres in the whole of Sierra Leone, to serve a population of 6 million.
The challenge of this disease is enormous, but the role of NGOs like the Waterloo Partnership is clear: we must continue to help, in any way we can. To walk away is not an option.