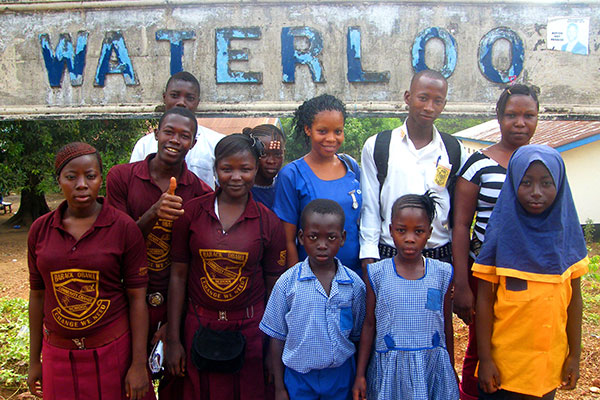 The Waterloo Partnership was founded in 2005, following an earlier visit to Sierra Leone by a British Parliamentary delegation in which our then local MP took part.  Moved by the  needs of the country following the end of the civil war, a small number of  volunteers from Waterloo and Crosby in Merseyside made a fact-finding visit to Waterloo SL, and the charity was subsequently registered with the Charity Commission.
We have a two-fold purpose: to support the people of Waterloo Sierra Leone, and to establish links between our two communities so that we learn from each other. The needs of the SL community are assessed by local people who have organized themselves into a committee, the Waterloo Partnership Sierra Leone (WPSL). The committee is uniquely placed both to reflect the opinions of local people and to involve them in decision making, planning and implementation. Projects approved by WPSL are subsequently considered for funding by the trustees of the charity in the UK. We have strict rules about governance and audit, and are able to assure all our donors that the funds they provide are spent solely on supporting beneficiaries in Waterloo SL. Use of funds is checked during an annual visit to SL by members of the Waterloo Partnership UK (WPUK).
Our early activities focused on the material needs of the schools in Waterloo SL. It so happened that several local schools in the UK were closing because of falling rolls, and we were able to ship out a large quantity of redundant school furniture and teaching resources: about 60 tonnes over a three year period. We also sent goods such as bicycles, sewing machines and sports equipment to support the activities of the local community.
Since then we have become involved in a number of community projects in Waterloo SL: our aim is to achieve lasting sustainability wherever possible.
Our projects include:
A scheme to provide education for 40 vulnerable children, by supplying school uniforms etc.  and support for their guardians

Provision of bursaries for further education

The construction of school classrooms  and toilets

The provision of tools and seeds to poor farmers, particularly women

Funding for a co-operative of women bakers

Construction of wells and bridges

Support for a motor mechanics training workshop

Health Care. We have supported the Waterloo Community Health Clinic by providing beds, mattresses, furniture, diagnostic equipment and disposable surgical goods. We also fund the diagnosis and treatment of malaria and typhoid fever etc. for the 40 vulnerable children in our education scheme.
The Waterloo Partnership has also facilitated the linking of UK and SL schools and the exchange of teachers, funded and supported by DFID and the British Council.  A total of 26 schools have participated in the programme, which is now organised independently by the schools themselves. The children involved in both countries are learning about sustainability, peace and conflict, and global citizenship.
Currently the Charity has 24 members, all volunteers. The nine trustees are each appointed for three years, and currently come from a variety of backgrounds: education, journalism, management, medicine, social work, IT, engineering and the financial sector.