Health Care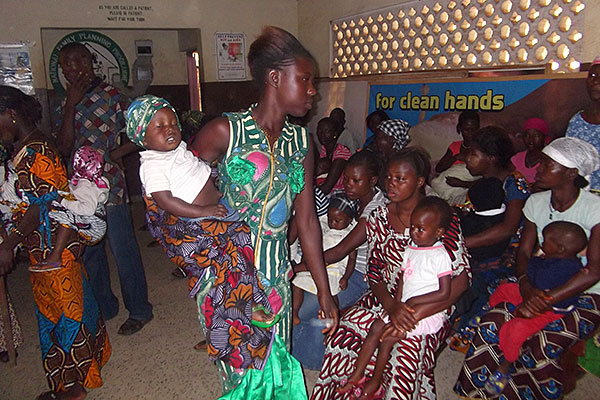 Health and sanitation are key objectives in the development of the charity's projects. In 2010, the trustees took the decision that WPSL and WPUK would endeavour to provide toilet facilities to any new building that the charity constructed. Hence, the bakery, the garage and the three schools built by the charity all now have toilets.
Waterloo Community Health Centre. The charity continues to support the Community Health Centre, by supplying furniture, equipment and resources for the outpatient clinic and maternity unit. These have included the much needed surgical gloves as well as a bed, mattresses, and benches. The fundamental problems are the seriously inadequate accommodation, water and electricity supplies and external drainage.  This year an urgent request was received to build a small bridge (culvert) on the road to the Waterloo Health Centre. During the rainy season, lack of a bridge made it almost impossible for vehicles and pedestrians to negotiate the high water levels   in the drain crossing the road. The funds needed, £2,000, were offered by one of WPUK supporters in memory of her recently deceased husband. Such generosity has resulted in the work being completed speedily and safe access to WHC assured. A plaque is being installed to commemorate this.
The maternity unit is very cramped: babies are delivered in a small room with two beds, one on each side of the room and with just enough space between the beds for a desk under the window. In spite of the difficult working conditions the Maternity nurse, Princess Bangura, provides an exemplary service, delivering on average two babies a day.  The records for each patient are meticulously maintained and she provides training for student nurses.
The Clinic also provides a 'drop-in' clinic service and is also responsible for public health issues ranging from childhood vaccinations to chlorinating the wells to dealing with an outbreak of cholera last year.
Provision for in-service development of the staff will continue to be a concern of the charity, as will the strengthening of basic equipment and resources. The buildings are ultimately the responsibility of the Department of Health and Sanitation. Projects in relation to the buildings are beyond the remit of WPUK, but we are supporting initiatives to try to improve the situation. The construction of the culvert, hopefully, confirms the commitment of the charity to the health centre.