How Your Donations Are Being Spent
Thanks to the huge generosity of so many people and organisations in Waterloo, Crosby and beyond, The Waterloo Partnership is continuing to support a variety of post-Ebola projects. Our Trustees recently approved expenditure of over £12,000, mostly targeted at vulnerable children and their care-givers. The sum will provide hand hygiene, food aid, education, school equipment, seeds for farming, and support for children's guardians.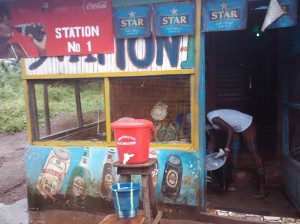 So-called Veronica buckets are filled with disinfectant, and you can wash your hands under the tap at the bottom. Costing only about £10 each, they are an effective way to prevent the spread of infection: children are always the most vulnerable. The buckets have been widely used during the epidemic, and WP provided 36 more at the request of community leaders present at one of our most recent health education meetings, at Benguema village in May.
Because there were so many Ebola orphans unable to go to school, local people in Bolima village decided to open their own Committee School and run it themselves. The school has earth floors, no desks for the four teachers, and furniture for only a handful of children: half of the 200 pupils have been orphaned by Ebola. The £1,500 sent by The Waterloo Partnership will provide tables and chairs for the teachers, and enough sets of 3-pupil benches and tables for most of the children. The furniture is currently being made by a local carpenter, in time for the new school term.
The 40 vulnerable children in our established Uniform Scheme all returned to their schools when they reopened in April, having missed almost a year's education. As in previous years, over £4,000 is needed to cover the cost of uniforms and shoes, stationery etc, school charges, and a small 'start-up' cash grant for their care-givers. A similar sum has been sent to fund education for 45 Ebola orphans: read more below.
Since the peak of the Ebola epidemic in November, when food became scarce and unaffordable, The Waterloo Partnership has been funding twice weekly deliveries of food to our 40 children in the Uniform Scheme, and to an increasing number of Ebola orphans. The initial group of orphans quickly increased to 30, so that 70 children in all were receiving food supplies twice weekly. This was not viable for the small Waterloo Partnership (Sierra Leone) team to sustain, particularly with the addition in May of a further 15 Ebola orphans in Bolima – a total of 85 children in  all, in scattered communities. A feeding programme has now been funded and delivered to all 85 children, with a one-off supply of rice and non-perishables to last until the beginning of September, when it is hoped a promised Government school feeding scheme will start.
The 45 orphans who lost their families to Ebola all live with care-givers in their communities. Half of these children have not been to school before, because they were too young, or because their families could not afford it. But funded by WP, all 45 children will be going to school for the beginning of term at the end of August, proudly wearing their new uniforms.
A group of 15 vulnerable Ebola orphans was identified in Bolima village following a health education meeting. Their care-givers have received  small cash grants, and will also be supplied with groundnut seeds to plant on community land during the next planting season in early September, at the end of the rainy season. Groundnuts supply both nourishing food and a cash crop, providing food security and livelihood recovery for the orphans' new families in the wake of the economic crisis caused by the epidemic.
These post-Ebola projects have only been possible with your donations, and through the commitment of our partners, The Waterloo Partnership team (Sierra Leone) on the ground.
Please help The Waterloo Partnership to go on supporting the people – and especially the children – of Waterloo Sierra Leone.