Schools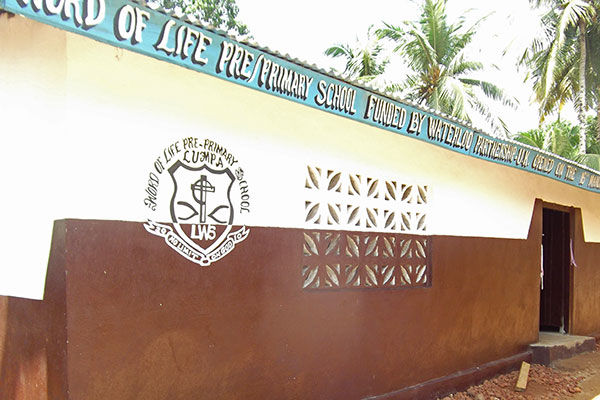 Enabled by the funds (£5,252), received from the British Foreign School Society (BFSS), WUK commissioned the building of three classrooms and a toilet block for Joy Primary School (JPS), Freetown. While the proprietor of JPS had endeavoured to secure funds from BFSS, he needed the support of a registered charity to access such funds. The premises of JPS had been likened to a piggery. Visits, by WPSL and WPUK, to the site in March 2011 confirmed this. The worthiness of the proposed project was never in doubt. After agreeing a procedure for carrying out the project, the partners set to work in autumn 2011. During the building programme numerous difficulties were encountered, in roles, management, and resource provision, including choice of contractors and building fabric. There was also a resulting short fall of nearly £1,000, later met by WPUK. So it was, amid great celebrations, that the new Joy Primary School was opened officially, on 2 June 2012, by the late Victor Chukuma Johnson, Hon Deputy Speaker. He was a constant advocate for the work of the charity and opening JPS was his last task for the Waterloo Partnership. The charity will always be indebted to him.
The three classrooms and the toilet block are now in use: they are well built and fit for purpose. A permanent notice acknowledges the involvement of the Waterloo Partnership.  Recently the school's proprietor has contacted the WP Treasurer to express his appreciation.
Since 2009, Kulafai Islamic Primary School, once described as the poorest in Waterloo and the victim of falling rolls, has received significant funds from WPUK for school improvement. Pupils are no longer housed in dilapidated buildings or taught under trees, but in two attractive three-classroom blocks. Discrete toilet facilities for boys, girls and staff are now in use. Funds have been sent for the maintenance of floors, internal and external painting of classrooms, and general upkeep purposes. Such support has resulted in an over-subscribed school and a happier community.
Within the boundaries of the possible, some Sierra Leoneans are taking initiatives in improving their situation. An example of this is the headteacher of Word of Life School, Lumpa. Having raised funds to build three classrooms for pupils and staff, there was insufficient money to complete the building programme. Security of the premises was at risk. Prompted by the successful work of the Waterloo Partnership, an application for funds, to complete the building project, was received in January 2013. With so much enterprising good work already begun, WPUK sent the necessary money and, now, all is finished. The building is well-lit and clean, and has not been subdivided into classrooms, so that assembly can take place in a 'hall'. Hopefully, the school can make that desired difference to the Lumpa community.