After Ebola : 'The Waterloo Plan'
There is real hope at last that the deadly Ebola virus will soon be eradicated from Sierra Leone. Thanks to a continuous publicity drive and vigorous contact-tracing, plus a 3-day 'lockdown', the figure for new cases of Ebola nationally has dropped to 10 per week – down from 75 cases only four weeks ago. Waterloo itself has suffered only one new case in the last fortnight. So although for a number of reasons Ebola is proving difficult and slow to eradicate, especially in neighbouring Guinea, there is now cautious optimism in the air. The Waterloo Partnership has already been able to support some new schemes, as our partners look to the future with their 'Waterloo Plan'.
Getting Back to Work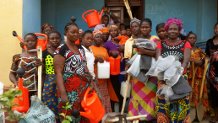 WP has been supporting a large group of women farmers for some years: wheelbarrows, Wellingtons and mattocks were shipped out by container in 2006. Since then, thanks to our Christmas Gift Scheme, over 160 women have been supplied annually with seed, basic tools, and wellies (to protect against waterborne infections). The women, who are war-widows, sole parents, or the wives of amputees, depend on our support to provide food for their families, and perhaps a few cash crops too. This year, because of the desperate shortage of food in SL, combined with high prices, the women wanted to start planting early, to produce urgently needed food crops. You can see from the photo how pleased some of the farmers were to be collecting their seeds, fertiliser and tools!
As part of its 'Waterloo Plan' for 'livelihood recovery' locally, our committee in SL requested additional funding for six more groups of women farmers. Thanks to the generosity of UK donors, WP has been able to equip these extra farming groups; and WPSL would like to extend this scheme to include more women.
As a result of family deaths due to Ebola, other women have tragically been left unsupported, with dependants to care for. They receive no state benefits, and in addition may experience stigma rather than sympathy because of their close contact with Ebola. WP has recently provided modest start-up grants to ten of the most vulnerable of these epidemic survivors, so that they can buy what supplies they need to earn some money from traditional 'petty-trading'.
The 'Waterloo Plan' for Health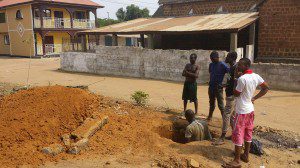 Safe drinking water is essential for the health of the community; so at the request of our partners WP is at the moment building another well, to serve in particular pupils from two schools, Hope and the UMC, as well as worshippers at the nearby mosque. Work began on 6th April, two teams of men working alternately for an hour, in extreme heat and a confined space, sinking the well at amazing speed. We're told that they need extra food and a lot of water to drink in order to keep going! The earth is hauled up to the surface in a bucket, tied by rope to a simple timber tripod above the well: at night the excavations are covered by a raft of logs for safety. When the water-table is reached, the well will be finished with a pump, a hard pavement surround, and a low wall to keep out animals.
Veronica buckets (apparently named after their designer in Kenya) are tall, with a lid to keep the contents clean, and a tap near the bottom for hand-washing. They have been seen everywhere in SL during the epidemic, perched on chairs and tables, at road-blocks, outside clinics and in the markets, filled with dilute chlorine disinfectant for hand-washing, in order to prevent the spread of the virus. During the epidemic our partners distributed them to quarantined families who had poor facilities for hygiene, and 40 more have just been supplied: it is important that good hygiene practice does not lapse at this stage, possibly allowing a resurgent of the virus. Costing about £10 each, these buckets are a cheap but effective way of limiting the spread of infection.
The WPSL team recently organised two very well attended health education meetings in Manor Koya, a village only two miles from the centre of Waterloo, which was a centre of infection and suffered over 150 deaths from Ebola. WP funded these important events, where community leaders encouraged the audience to continue with anti-Ebola practices in order to eradicate the virus. The stigma attached to both patients who survived the virus and to their families has caused isolation and distress: two Ebola survivors spoke to the meetings themselves about their experiences. Chair of WPSL, Alieu Mansaray, pointed out that it was in fact safer to sit next to a survivor than anyone else, and ingeniously demonstrated this by getting survivors to mingle with the audience.
It has just emerged that 50% of Ebola survivors are left with a severe inflammatory eye problem which causes loss of vision: this complication has had little publicity. Fortunately there is a specialist Eye Hospital in nearby Kissy Town, which can offer effective treatment, and WP has agreed to pay the cost of medical examination and drugs for survivors from Waterloo township who have symptoms. Although we can only estimate the numbers involved, we are very pleased that WP has been able to respond quickly to this need, since the patients require urgent treatment if they are going to avoid losing their sight.